POLYUREA COATINGS FOR CONCRETE
Concrete is prone to cracking, moving and deteriorating over time. Heat, cold, sun, rain are all plagues to concrete surfaces. LINE-X XS-101 is a CE certified pure polyurea spray elastomer that offers an antidote to the elements. XS-101 is a perfect coatings solution for concrete. It is waterproof, resists abrasion, prevents corrosion, bridges over cracks and is flexible enough to move with the concrete without breaking.
LINE-X provides a robust seamless membrane to prevent water/chemical-ingress, leaks and abrasion damage.
1. CONCRETE PRE-TREATED TO CSP 3-6
2. LINE-X APPROVED
PRIMER: 0.3-05 KG/M2 THICKNESS
3. LINE-X APPROVED PRIMER (2ND WET COAT) & OVEN-DRIED QUARTZSAND APPROX 1KG/M2.
4. LINE-X XS-101: 2.0-2.5MM THICKNESS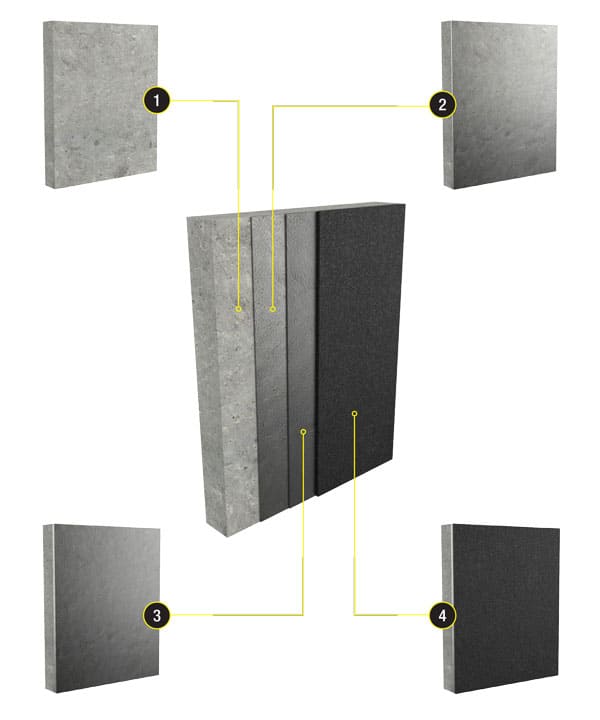 CRACK-BRIDGING – 400% ELONGATION
GREAT ADHESION TO CONCRETE
SEAMLESS PROTECTION
EXCELLENT CHEMICAL RESISTANCE
WATERTIGHT SEAL
FAST RETURN TO SERVICE
BENEFITS OF A LINE-X CONCRETE MEMBRANE:
SEAMLESS, LONG-LIFE SEAL
PREVENTS MOISTURE PENETRATION
CRACK-BRIDGING (OVER 400% ELONGATION)
OUTSTANDING MECHANICAL & CHEMICAL RESISTANCE
FREE FROM SOLVENTS
CE CERTIFIED AS A CONCREATE MEMBRANE
LINE-X IS A SPRAY APPLIED COATING, APPLIED PROFESSIONALLY BY OUR TEAM OF TRAINED APPLICATORS.
400% ELONGATION, WATERTIGHT, TOUGH!
LINE-X IS A STAND-OUT AMONGST THE MOST COMPETENT MATERIALS FOR THIS TYPE OF APPLICATION. IT IS BROADLY UTILISED FOR SURFACE PROTECTION AGAINST CHEMICALS, ABRASION AND WATER-INGRESS AS WELL AS OFFERING IMMENSE DURABILITY AND EXCELLENT CRACK BRIDGING PROPERTIES.
LINE-X CAN PROTECT
JUST ABOUT ANYTHING.
CONCRETE
APPLICATIONS INCLUDE:
ROOF GARDENS
TANK LINING
CAR PARK DECKS
ARTIFICAL RIVERS AND FOUNTAINS
FOUNDATIONS
RETAINING WALLS
LINE-X IS SPRAY-APPLIED BY OUR NETWORK OF PORTABLE APPLICATORS. OUR PROFESSIONALLY APPLIED COATINGS ARE DIRECTLY APPLIED ON TO THE PREPARED SURFACE AND BECOMES LOAD-BEARING IN 1HR, ALLOWING A FAST RETURN TO SERVICE.